Urban Decay as always been a brand that one step ahead of everyone else in terms of originality, their product are known for being unusual and different and the quality is always outstanding.
Pocket Rocket lipgloss as got to be the most original lipgloss of all, I mean come on it's called "Pocket Rocket" need I say more?
Suggestive name aside the lid of the gloss houses a little hologram picture of a man that when tilted a certain way appears naked apart from is underwear.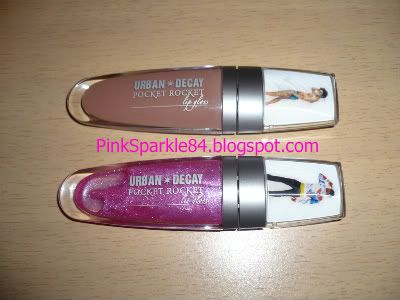 The gloss itself is super smooth and moisturising, it's super glossy and the lasting power is amazing, I can easily get 4 hours wear out of these and that's including a sip or two of water.
The scent is okay, it's very stong and can be sickly but it fades after a while. It supposed to be scented with creme brulee but to me it sort of smells like caramel popcorn.
The shade's are all very pretty and I found it quite hard to choose the two I did, I can see myself buying more.
Kirk is a sheer caremel nude shade and as no sparkle, it looks great over lighter nude lipsticks to make the color a bit warmer and more wearable.
Doug is a sheer sparkly medium pink that still as enough pigmentation to show up on it's own, the sparkly shade's remind me of a nicer version of MAC's Dazzleglass.
For £10.50 they are a fantastic gloss and the quality beats a lot of the more expensive ones, there's quite a selection of colors to choose from and they are all very wearable, for me personally these are the perfect lipgloss ever.