Just a couple of new colors and some nail growth treatment to try and get my nails to grow longer.
The collection 2000 was on offer at Superdrug and Boots, 2 for £3 and I picked up the Sally Hansen because Helen from Hele Says... raves about it.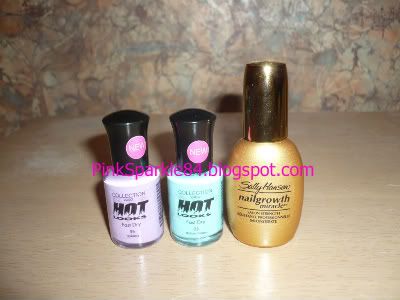 Collection 2000 Hot Looks in #35 Dynasty, I'm relly liking pale lilacs at the moment and this one is very pretty.
Collection 2000 Hot Looks in #33 Button Moon, similar too Barry M's Mint Green but a touch lighter and more Turquoise.
Sally Hansen Nailgrowth Miracle, promises 30% longer nails in 5 days I've been using it for 3 and can't say I've noticed a differance.