The only thing I knew I would be getting from this collection was the Naked Honey Skin Salve, the Naked Honey perfume caught my attention in the store but I'm regretting getting it now.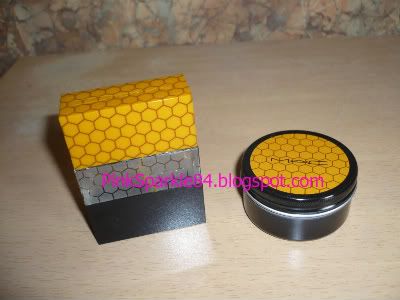 Naked Honey Body Wash, over priced and as zero scent or at least I can't smell anything.
Naked Honey Hand and Body Cream, basic lotion and didn't feel particularly moisturising. Again over priced and as the same scent issues as the body wash.
Naked Honey Skin Salve is fantastic, I've never come across a balm that feels as moisturising and nourishing as this one does.
The texture is phenomenal too, thick and smooth but not waxy or greasy, this is NOT expensive Vaseline as some people have pointed out.
In my opinion this is the star of the collection and the only thing worthy of a possible backup.
Creations Hue Naked Honey, smelled really quite lovely in the store, like pure honeysuckle but turns rancid once you've worn it for a couple of hours, seriously regretting buying this one.
Creations Hue Africanimal, smells like honey and formaldehyde, really need I say more?
High-Light Powder in Honey Light, a basic flesh toned powder covered in gold overspray. Once the overspray is gone this is pretty pointless as it does nothing to highlight skin and is matte.
High-Light Powder in Golden Nectar, a light tan shade with gold overspray, again once the gold shimmer top coat is gone your left with a matte light bronzer, pointless.
Creme de Miel e/s, a basic light shimmery gold shade, pretty but MAC's released tons of this shade in the past.
Pollinator e/s, a light frosty peachy coral, pigmentation is rubbish and the color isn't unique.
Buckwheat e/s, a pretty dark warm brown flecked with gold, this one is worth getting if you don't have many browns in your collection.
She's a Star l/g, pretty light gold and would look great over a nude lipstick but I have plenty of glosses similar to this one.
Queen Bee l/g, a light sparkly peach and absolutely no pigmentation on my lips, disappointing.
Buzz l/g, a medium coppery red/brown, not my kind of color but would look great on darker skin tones.
Things I'd recommend: the skin salve, Creme de Miel and Buckwheat eyeshadows and She's a Star lipglass.