Color craft is huge and could potentially mean you spend loads however I've found a lot of it is similar to past releases, the color payoff was poor or just not unique enough to justify purchase.
This is what I got: Sunny By Nature and Cheeky Bronze MSF, Daft Pink MB, Girlish Romp MES and the #131 brush. Also pictured is Florabundance lipglass but that's not part of the collection.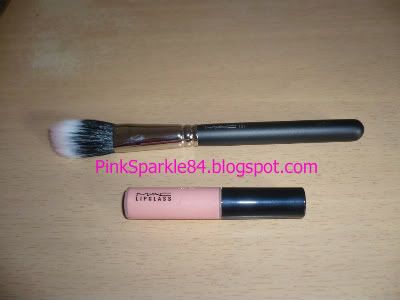 Mineralize Eye Shadow: I'm not gonna go into detail for every one of those as they are all pretty much the same, pigmentation is rubbish and it's mostly just shimmer and no color payoff. Natural Flare and Girlish Romp are the only too that I was drawn too and while I like the colors of Girlish Romp in the pan I really have to use these wet for it to show up on my eyes, Natural Flare is probably the most pigmented of the six and I'll probably go back for that one.
Marbelized Lipglass: boring, I hated the previous release of these that came out with Sugarsweet as they were too sheer, the Color Craft ones are more pigmented but they are too pricey for what they are. They are a less sticky version of the regular kind in a "hard to get out" tube, the colors aren't anything unique or amazing and they cost £2.50 more than normal lipglass. No thank you I'll pass on those.
Mineralize Skinfinish: if there one thing MAC does well it's their Minaralize Skinfinishes, these are no exception.
Triple Fusion, a lovely gold shade with hints of peach, would make a fantastic highlighter.
Smooth Merge, sort of like a more pigmented prettier version of Petticoat, might go back for this one.
Warm Blend, a gorgeous creamy golden bronze shade that's better suited to darker skin, lighter skin can wear this but you need a very light hand.
Porcelain Pink, a re-promote from High Tea and Goldplay making this one a must have for collectors, I already had this one from before and it's not one a reach for often. It's a pretty pink shot trough with gold but I find it quite plain and boring.
Sunny By Nature, lovely bronze shade with the most subtle pink iridescence, really light up my face and makes me glow.
Cheeky Bronze, a sparkly peachy bronze that work very well over Sunny By Nature, this one is the one to buy as I find it suits everyone.
Lipstick: the only one I wanted was Color Crafted but by the time I got back to my MAC counter it had sold out. The other colors in my opinion are boring and easily dupable.
Mineralize Blush: most off these have no pigmentation whatsoever they are just highly shimmery and work best layered over a similar color blush.
However I don't regret getting Daft Pink, it's a unique shade and I didn't have anything similar in my collection. The only other one that caught my eye was Style Demon which is a warm red with copper shimmer.
#131 Duo Fibre Powder/Blush Brush, I've used it for blush so far and I like it a lot better than the #187 or the #188. The shape of the brush is a lot easier too work with and I can see it being useful for applying foundation too.
#109 Small Contour Brush, part of the permanent line so no need to rush out and buy however if you use a lot of cream based blush or bronzer (Chanel Bronze Universel in particular) this brush is a must have.
#226 Small Tapered Blending Brush, why is this brush limited edition? Perfect for defining the crease and blending harsh lines.
Must have's of Color Craft: Cheeky Bronze and Smooth Merge mineralize Skinfinish, Color Crafted lipstick, Daft Pink and Style Demon Mineralized Blush, #131 and #226 brush.