A lot of bloggers have already done this tag and it's done it's round on youtube too so I figured I'd join in.
Choosing just 10 out of the 100 or more that I have was a difficult task indeed, I love nail polish and will wear pretty much any color but my favourites change all the time so these are the ones I love at the moment.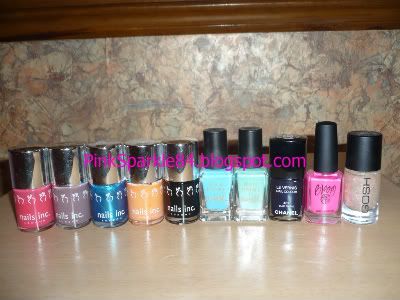 Nails Inc Brook Street, the perfect coral and my most used polish of all time but it's been discontinued so if you want to get your hands on it do it now. A close dupe would be Drury Lane also by Nails Inc.
Nails Inc Jermyn Street, is a gorgeous taupe shade that's very fashionable. It's one of those colors that people will ask you what your wearing cause it's unusual.
Nails Inc Hanover Street, everyone needs this color in my opinion, there's tons of dupes out there but the Nails Inc version is so much more pigmented and vibrant.
Nails Inc Portobello Market, the most gorgeous pastel orange that looks amazing on toes.
Nails Inc Black Taxi, my "go to" shade when I'm not sure on what color to go for.
Barry M #295 Turquoise, super pretty shade of creamy Turquoise, this is what I'm using as a dupe for China Glaze's For Audrey even though I'm not sure they are not that similar.
Barry M #304 Mint Green, the perfect mint green and the perfect dupe for MAC's Peppermint Patty.
Chanel #461 Blue Satin, dark navy blue with the most subtle blue shimmer that's barely visible on the nail, chips really fast though.
Bloom Molly, the brightest neon pink ever.
GOSH #546 Rainbow, one of those flakie polishes that gives a wicked effect on your nails. I find it best over a dark base, it reflects orange, gold and green.