I must admit I went a little crazy with these two collections, infact I could have easily picked up a few more things but I stopped myself.
Spring Colour Forecast is huge probably MAC's largest collection to date, or at least that I can think of.
The thing I wanted most was Ripe Peach and my store had sold out of Ripe Peach in 3 hours, I had to ring around and did manage to find a store that still had them but I couldn't use my pro discount as I bought from a counter and to be honest now that I've got my hands on it I don't think it's that great.
Too Fabulous is composed entirely of lip product and if I had any self control I should have skipped it entirely but they were so pretty i couldn't resist.
Spring Colour Forecast
Colour 4 Quad - Full of nice bronzy neutrals not that I need more of them.
Bubblegum Lipstick - Funnily enough I don't have anything like this in my collection, great pinky purple shade but you really have to layer it to get the color to show.
Ripe Peach Blush Ombres - Pretty but overated, wouldn't bother to search for it if you missed it.
Victorian Lipstick - Love, love, love!
Azelea Blossom Blush Ombres - Might be going back as I have a million colors like it.
Ember Glow Lipglass - Lovely peachy shade with gold shimmer, saving this one for when the weather warms up.
Too Fabulous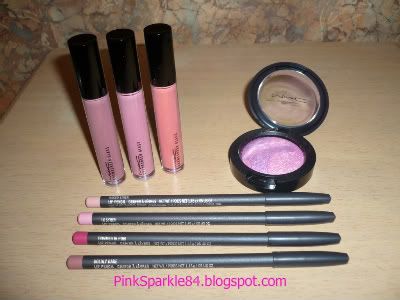 Deelight Cremesheen Glass - a great natural shade with an hint of brown.
Just Superb Cremesheen Glass - a neutral pink that would look great with a smoky eye.
Richer, Lusher cremesheen Glass- a lovely peachy coral that's not overly bright.
Two Virtues Mineralize Blush - Going back cause I have too many colors like it.
Naked Lip Pencil
In Synch Lip Pencil
Trimmed In Pink Lip Pencil
Boldly Bare Lip Pencil