I'm gonna start by saying I absolutely adore Barry M nail polish and their dazzle dusts but the lip paint are a big disappointment.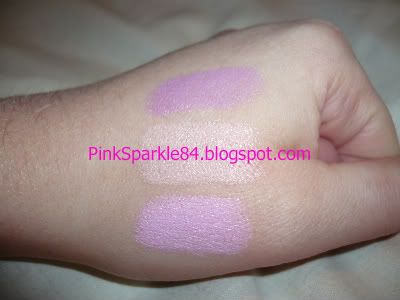 From top to bottom
#129 Palest Lavender
#101 Marshmellow
#100 Baby Pink
There most certainly not lacking in color choice, they have everything covered from the lightest nude to the brightest pink but the texture of these are just awful and all of the lighter shade's look fine when swatched on the back of your hand but the second they go on the lips it's zombie central.
Baby Pink and Marshmallow have the driest texture out of any lipstick I've ever tried including the ones labeled as matte, I can literally feel it drag my lips and it applies unevenly and even with a balm underneath I still get that problem.
The color of both of these is lighter on the lips than the back of my hand the swatch above actually looks quite pretty but on the lips they practically look white, they are very chalky.
If I apply a warmer gloss over the top I can just about make these two work but there are similar colors in other brands that don't require this extra step that I prefer.
Palest lavender on the other hand is quite shiny and sheer and a lot more wearable but the color isn't very long lasting, I find myself re-applying this one a lot during the day, again a gloss does help it lasty but I don't want that to have to be a requirement.
Unless Barry M changes the formula of these I will definitely not re-purchase.