This is gonna be a review of all 3 HD products; the primer, foundation and powder.
I bought them after seeing of all the amazing reviews on Youtube, MakeupAlley and Specktra so I thought I'd give them I try.
Honestly I think they are average, okay but nothing special. My MAC Studio Sculpt foundation set with Studio Fix powder give me the look I believed the MUFA HD would give me at a much cheaper cost.
Make Up For Ever is a nightmare to locate in the UK I took me two days of searching the net in order to find the only two places that stock this range one of them is PAM www.makeup-provisions.com and the other is Guru Makeup Emporium www.gurumakeupemporium.com.
I ordered from Guru Makeup, it's mail order only as opposed to PAM which as an online shop too.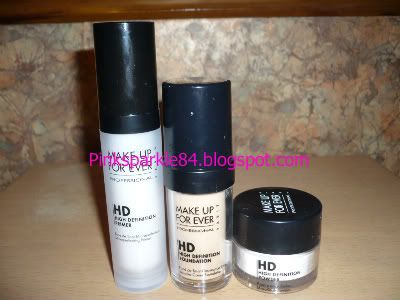 The primer is £22.50 for 30ml and I have it in shade #0 which is white in color, they say it's a ligh, non-greasy skin perfector that improves the skin's appearance and primes it for make-up application.
The MUFA HD feels just like a lightweight moisturiser, it sinks in immediately and leaves no residue, the scent is quite light and pleasant and it does brighten my skin while still giving a smooth base to work with and it does it without that "slick" finish most other primers have.
I'm not sure if it makes you foundation last longer as I've only used it with the HD foundation and that seems to have good lastability on it's own.
I still don't feel it's a remarkable product, I like my Blanc De Chanel just as much and if your on a budget the GOSH Primer is excellent.
Out of the 3 HD products I own this is the one I would probably re-purchase but in a different color.
The foundation is £26.50 for 30ml and based on the swatches online I chose shade #117which matches me well, however I'm pretty sure that depending on the time of the year and how tanned I get I could use #118 and #120.
That's the first mildly annoying thing about this foundation you chose a shade sight unseen unless your prepared to travel to the two places mentioned above so looking at swatches online really helps with selecting you correct shade.
Now here the thing I don't see the HD effect this foundation supposed to give, don't get me wrong it's actually a good basic foundation but it doesn't perform any differently for me than the likes of MAC Studio Fix Fluid or Select, YSL Perfect Touch or Giorgo Armani Luminous Silk.
The blurb on the box promises flawless coverage with an extremely natural finish and I would have to dissagre, I still need concealer to cover blemishes and redness and if I happen to have any dry patches it will accentuate it more.
One thing I will say it as not broke me out at all or blocked my pores and I like the fact it's completely fragrance free.
If I'm having a really good skin day I can use this foundation and be quite happy but otherwise I'll stick to my Studio Sculpt.
The powder retail at £20.95 for a 10g jar which is shockingly pricey but it promises such good things I had to try it.
It contains spherical microparticles which give skin a perfect glowingly natural complexion says the box.
It's very finely milled and feels silky smooth when you apply it but I find for me it doesn't mattify too well, it does blur fine lines and makes your pores disappear but my Studio Fix powder works just as well.
Also I find that by midday my skin looks shiny and when I feel my skin it's like I can feel the texture of the powder, it's hard for me to explain but it's like you can feel an ever so slight grittiness.
Overall the only thing I can probably see myself buying again is the primer but I still see the HD range as being over hyped and over priced.