I've not broken my make-up no buy, I got this before I imposed that rule on myself, It just took a while for the stuff to get to me cause they were out of stock on one item.
Rouge Bunny Rouge can be purchased at Zuneta.com and as been featured on quite a few blogs lately and every ones opinion is pretty much the same, amazing quality products but a little too pricey and I have to agree, I would not have purchased anything at all if it wasn't for the 20% off code that they had last month.
First of all let me take a moment and say that Zuneta customer service is brilliant, I didn't get an order conformation email but I did get one to say that one of my items were out of stock and they were waiting for it to be available again.
When it was back in stock I got an actual phone call from a real person to tell my my order had shipped out that day and that I should receive it the next day, that in itself is amazing as usually a lot of these Internet based companies will only contact you by email.
The products came packaged in a cute box with a ribbon and my good were wrapped in pretty purple tissue paper, again not necessary but a nice touch and they were generous with the samples.
Out of the stuff I got I loved most of it but as with any make-up you buy of the Internet sometimes the colors in real life can be completely different to what you were expecting them to be, this was no exception but really it's no problem at all as Zuneta will let you return any item your not happy with as long as you haven't used it.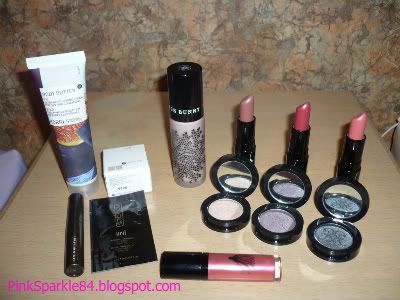 GWP of Korres Fig Body Butter and Guava Lip Butter and samples of Hourglass Superficial Lash Mascara and Veil Oil Free Mineral Primer which by the way is amazing and I will definitely be purchasing a full size.
Seas Of Illumination Highlighting Liquid in Sea Of Tranquility, I've not tried this yet as I've been having skin issues and shimmer makes spots look worse, funny thing is I went to swatch the product and the pump is broken, I can't get it out the bottle no matter how many times I press down, I'll have to call them tomorrow.
Hues Of Enchantment Color Burst Lipstick in Know What Lies Are For, a nice basic caramel nude shade, nothing special in color but the formula of these lipsticks is really nice, light on the lips but long lasting and not drying.
Hues Of Enchantment Color Burst Lipstick in Word Of Mouth, again a pretty color but not particularly unique, too much of a soft red to create real impact but I guess that makes it very wearable.
Succulence Of Dew Sheer Lipstick in Fluttering Sighs, OMG do I absolutely love this lipstick! It's the most perfect peach shade shot trough with this lovely golden shimmer, this is the color I was searching for a few months back and couldn't find. This is one of those lipstick that if I should ever finish this tube I would re-purchase immediately.
When Bird Are Singing Long-Lasting Eye Shadow in Unforgettable Oriole, a pale golden flesh toned shadow that makes the perfect all over wash of color as well as an highlighter, kinda reminds me of Stila Kitten.
When Bird Are Singing Long-Lasting Eye Shadow in Delicate Hummingbird, a gorgeous smoky amethyst shade that blends like butter, actually all of the eye shadow seem to blend with very little effort these are the one item from RBR that I would recommend and think they are worth the £22 price tag.
When Bird Are Singing Long-Lasting Eye Shadow in Volcano Fairy-Wren, looks like any other sparkly black shade at first but it's actually more of a charcoal shade with very fine shimmer, I could actually get rid of all my other black/charcoal shadows an just keep this one and I would be perfectly happy.
Sweet Excesses Glassy Gloss in Crisp Sorbet, I love the lasting power of this gloss and the feel of it on my lips, quite thick but more of a balm texture, the color is pretty but not very pigmented, I still like it a lot tough.
Swatches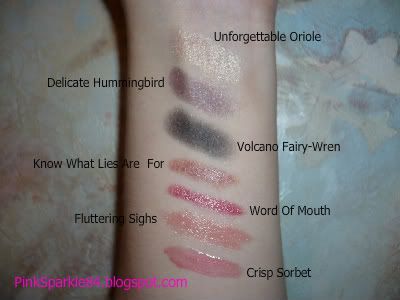 Things I got and have to send back: a lipstick in Inscribed In Sheets as it's too similar too Know What Lies Are For, a Glassy Gloss in Frappe Forever and a Lip Gloss in Coy cause I have something similar and the Lip Potion and one of the Decadent Duos cause they are way too small in size for the price I paid for them that I simply refuse too keep them.
I do recommend you all check this brand out, especially the eye shadows, I personally will buy again from Rouge Bunny Rouge but only if there's a discount code going. I will definitely use Zuneta again, they carry Korres which I adore and I wanna try more from Hourglass.