Benefit have an amazing offer at the moment were if you buy two product you get a FREE full size Powderflage Powder Concealer, amazing considering it retails at £19.50.
I needed to return some perfume I'd bought to many back-ups of so I decided to turn my refund into an exchange, I got Hoola Bronzing Powder and a Velvet Eye Shadow in Fawn Over Me.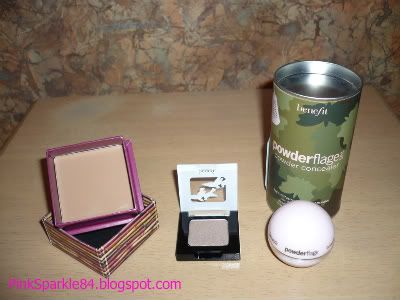 Hoola is a matte bronzer completely devoid of even the slightest hint of orange, it's actually the most flattering shade of bronzer I've come across but I find it streaks on me and it's hard to blend.
I have a feeling it's cause of the foundation I'm using and not because of the actual product it's self, I''ll be putting it to test with other foundations and report back.
Fawn Over Me is a nice light taupe with a slight gold base to it, it pretty but not particularly unique. The formula is gorgeous, very smooth and buttery and the pigmentation is amazing.
I haven't tried the Powderflage yet but I've heard good reviews, having said that my sister uses it and said it's nothing special but she's not a lover of powders in general.
I have a similar product from Bare Escentuals and actually really like it, so we shall see.