So this is gonna be my first haul on here, I didn't buy all this in one day it's been accumulating over the past two weeks.
It's mostly lip stuff and a blusher which I forgot to take a picture of.
I've never tried GOSH make up and it was only brought to my attention thanks to lollipop26 on youtube but I must say I'm impressed and will be buying more.
The primer is great, similar to the Smashbox but loads cheaper and works just as well if not better, it does contain silicone so it may not suit everyone and I am acne prone so we shall see.
The lip gloss is sort of clear really but it's still a nice gloss and it will look nice over nudes and pinks.
The lip jam is my favourite out of the products I got it's a clear gloss with a reflective blue finish, this one will look great over hot pink lipstick.
Next is soft'n shine lip balm, not quite sure if I would class this one as an actual balm as it's not as moisturising I would say it's more of a lightweight liptint. The color is absolutely gorgeous.
Moving on to the MAC, I friend at work had Angel and it looked so pretty I had to have it, and the lady at the store recommended Creme Cup to me, I don't know why it's taken me this long to get either one of these, they are gorgeous.
Lastly the Barry M, love the price and the colors but not the texture of the #100, it's really dry and it doesn't go on smooth unless you use a balm underneath first and that makes the lipstick wear off faster, also it looks great when swatched on he back of my hand but on my lips it's too light and makes me look washed out.
I guess I can still make it work if I use a darker tinted gloss on the top but then it's not a nude lip color.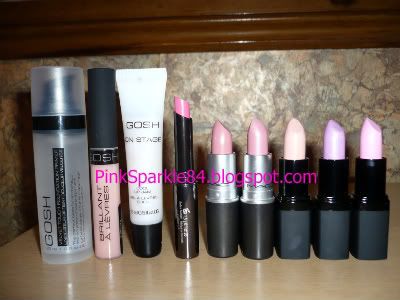 GOSH Velvet Touch Primer
GOSH Lip Gloss in #004
GOSH Cool Lip Jam in #100
GOSH Soft'n Shine Lip Balm in #30 Barbie
MAC Frost Lipstick in Angel
MAC Cremesheen in Creme Cup
Barry M in #101 Marshmellow
Barry M in #129 Palest Lavender
Barry M in #100 Baby Pink
I've had quite a bit of YSL stuff in the past but I've never tried the lipsticks or glosses so since there was a sale were I work I decided to get some things that I've wanted for a while.
The Rouge Volupte lipsticks are amazing and there at least another two that I want to get if not more, the downside is they are £20 and that's expensive for a lippie and as much as I love them I would never buy one at the RRP.
The Pure Glosses are fantastic too; super shiny, not sticky and they smell of watermelon, I find they don't last very long on the lips but they are so nice I don't mind reapplying them more often.
As for the Pure Lipsticks I haven't made my mind up yet on these as they are supposed to be a longer lasting formula than the Rouge Volupte but I don't find this to be the case. I'm reserving judgement until I've had a chance to use them more.
Pure Gloss in #1
Pure Gloss in #2
Rouge Volupte in #1 Nude Beige
Rouge Volupte in #7 Lingerie Pink
Rouge Volupte in #13 Peach Passion
Pure Lipstick in #148 Tea Rose
Pure Lipstick in #146 Romantic Pink
I also got NARS Blush in Super Orgasm but I might take it back has I fail to see a difference between this one and the regular version which I already have.