Another haul for me today not that much really just some stuff I've wanted for a while.
First the China Glaze: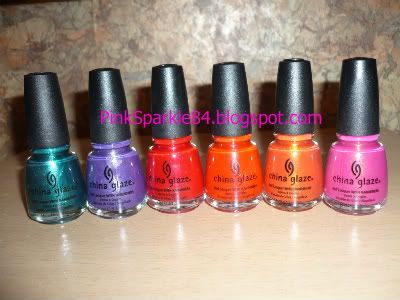 Watermelon Rind
Grape Juice
Raspberry Festival
Cherry Pie
Orange Marmalade
Strawberry Fields
Pink Voltage
Rose Among Thorns
In The Lime Light
Japanese Koi
Shocking Pink
Labu Heels
NARS and GOSH:
GOSH Velvet Touch Eyeliner in #006 Bananas
NARS Turkish Delight Lip Gloss
NARS Taj Mahal Blush
This is my first set of China Glaze colors and I love them but I think they are still a little expensive.
I absolutely adore Labu Heels, I've been looking for a color like that for years.
I finally broke down and bought Turkish Delight, love NARS shades of gloss, hate the fact they smell of plastic but I'll live with it for such a nice color.
I also got my hair cut from shoulder lenght to a chin lenght bob, a necessary measure in order to get rid of a large chunk of the damage the bleach caused at Christmas and to make it all one lenght.