This is a review for the Diorskin Nude Natural Glow Hydrating Makeup and Diorskin Nude Natural Glow Fresh Powder Makeup, both retail for £28 each and can be found at most large department stores.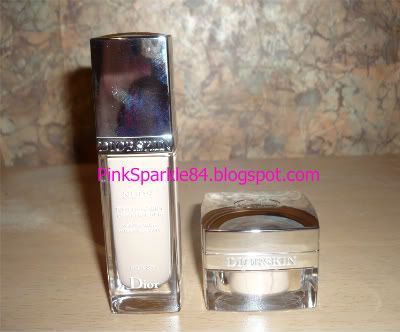 I've had about a month to test out both and can report back that one I love and the other one I don't.
The liquid version is amazing and I like it more than my Korres Wild Rose.
The texture is wonderfully creamy and moisturising, it glides on effortlessly and give medium to full coverage but feels like nothing on the skin.
It just gives the look of perfectly flawless, dewy, glowy skin but without shimmer or making you look like a grease ball and it lasts all day without needing a touch up.
I got it in the shade Light Beige which looks perfect when first applied but oxidises and turns ever so slightly pink on me, however it's not noticeable as I usually set it with a yellow toned powder.
It's a brilliant foundation and even though it's on the expensive side one bottle will last ages.
Now the powder version isn't as great.
As a foundation on it's own it's pretty useless, it doesn't cover well, goes on blotchy, it makes my skin look flat and lifeless and simply doesn't give the glow it's liquid counterpart does.
As a setting powder over foundation it works okay, it gives slight extra coverage but makes you look more matte.
The powder version doesn't oxidise on me like the liquid, actually it seems to balance out the pink tones of the liquid version so I guess it good for that, it doesn't cake and feel very refreshing on the skin as it as an high concentration of water.
I think I'll stick with my Giorgio Armani powder, which I love and I'll stick to Bare Escentuals for powder mineral makeup.