Okay so even though I've told myself I need to stop buying cosmetics I have no self control so here is another haul but please bear in mind this as been building up for the past 3 weeks.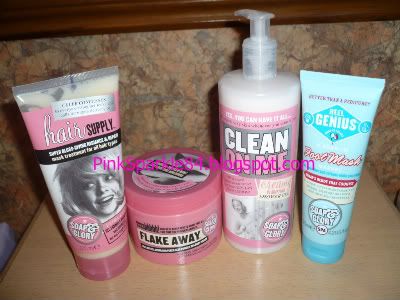 Soap & Glory Hair Supply, great lightweight hair mask and it leaves my hair super smooth.
Soap & Glory Flake Away, I've used this before works really well at exfoliating dead skin and leaves you moisturised but not oily.
Soap & Glory Clean On Me, a gorgeous shower cream that cleans without stripping.
Soap & Glory Heel Genius, an overnight foot cream that leaves feet baby soft by morning.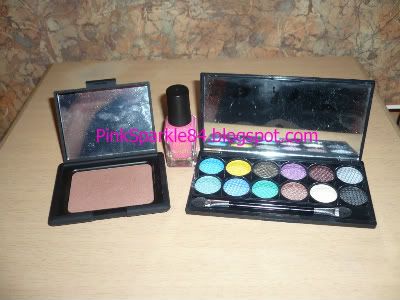 Barry M Natural Dazzle Bronzer, everyone raves about this one I'm still not convinced.
Barry M Nail Paint in #305 Pink Flamingo, I love this shade.
Sleek Curious Palette, great quality as usual but I feel Sleek are running out of color choices as these are not particularly unique or different to the other palettes of theirs.
Lush have an offer on at the moment, when you spend £20 or over you get a free product of your choice from a selection of their 20 newest ones.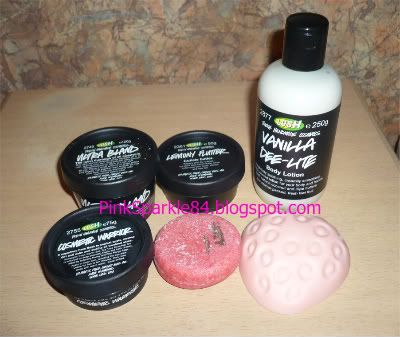 Lush Ultra Bland Cleanser, takes of make-up in seconds but it also leaves me feeling like I've used butter on my face, not sure if this could cause me breakouts.
Lush Lemony Flutter Cuticle Butter, works awesome and smells great too.
Lush Vanilla Dee-Lite Lotion, this was free for spending £20
Lush Cosmetic Warrior Fresh Face Mask, the SA gave this to me for free, used it once smells awful (like garlic) but work okay.
Lush New Shampoo Bar, have re-purchased this countless times, love it as a clarifying shampoo.
Lush Strawberry Fields Massage Bar, I use this on my legs as they get really dry and it works amazingly well.
Not pictured: samples of Catastrophe Cosmetics, Aqua Marina and Dark Angels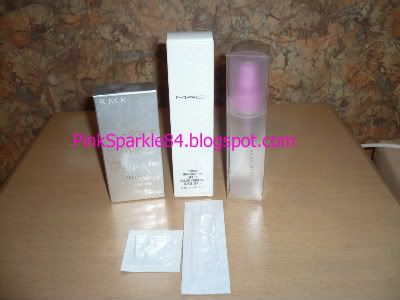 RMK Creamy Make Up Base Mat in 01, bought it cause on pixiwoo's blog this is described as the bast matte primer ever.
MAC Studio Moisture Tint in Medium, haven't used this on my face yet but I tried it on my hand in store, feels wonderful but the scent is awful.
RMK Herb Mist in Rose, the same sort of thing as Fix It+ but smaller and more handbag friendly, smells of roses would you believe.
RMK were doing GWP when you bough 2 products, I didn't take a picture but it was a gold flip flops and nail polish set that I'll probably never use.