I've been testing these out for just over a week and I absolutely love them, the quality is amazing, all the colors are super pigmented and they are long lasting.
Illamasqua's color selection is huge, probably not as vast as MAC but I feel they cover a wider range. MAC plays it safe a lot of the time, releasing a lot of new collection that just seem to copycat the old ones and in the past year or so I've found myself buying less from them, Illamasqua on the other hand is nothing but original and different, a lot of their products/colors are unique to the brand and cannot be duped.
I ordered on the website and I have to say a lot of the swatches are not accurate, I've heard Illamasqua is trying to rectify this but it's easy enough to find "real swatches online, here are a few links:
Illamasqua's Blog
Miss Worthy's Stuff
Too Much Blush
Visionary Beauty
Specktra
With that said lets move on the the actual review of the products.
Rich Liquid Foundation in RF135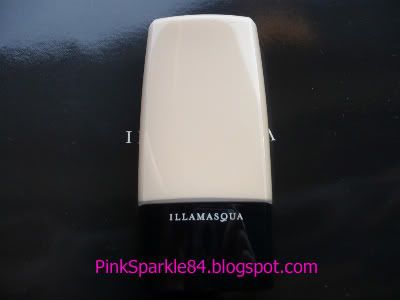 I'm always a little worried about buying foundation online, I never know if the shade will match (for reference I'm a NC20) or if it will break me out, this one is pure perfection now but the first time I tried it I hated it.
Why you might ask? Well the first time trying it I used my fingers and way too much product, the result was cakey and thick and it seemed to accentuate all of my dry patches.
The following day I tried half the amount with a kabuki brush and really worked it into my skin, the results were amazingly flawless, almost airbrushed finish not a pore in sight and no concealer needed.
The texture of the product is extremely thick and the tinies amount goes a long way but I feels completely lightweight on the skin, if you've tried the MUFE HD foundation, this will feel the same.
It also smells wonderful, like vanilla sugar and I really look forward to using it in the mornings.
The shade RF135 is perfect for me, it matches my neck perfectly, yes I said neck that's because my face is about a shade darker and I hate it, this even me out so I look all one color.
I love this foundation and it will possibly become my HG, I say possibly cause now I want to try the Light Liquid and Cream foundations the offer.
Bronzing Duo in Glint/Writhe
I have very pale yellow toned skin that can look quite dull and flat without bronzer,I have tried a ton of bronzers and a lot of them have left me disappointed.
MAC's Golden left me orange, Guerlain's Terracotta went on blotchy and Barry M Natural Dazzle is too mauve for a bronzer tough it makes a pretty blush.
Illamasqua's bronzer suits my skintone perfectly, the two shades can be used seperatly using the dark shade to contour and the light shade to highlight or they can be miked together to give a gorgeous glow.
Neither color is orange or muddy and you can go as subtle as you like or full on bronzed goddess, the gold shimmer is gorgeous and lifts the complexion without looking glittery or shiny.
It applies beautifully, takes very little blending and it last all day without fading and needing a touch-up (something even my beloved NARS Laguna hasn't managed).
I love the shape of Illamasqua's compacts, they are so unusual but because they are made of shiny black plastic they show up finger prints, so a quick clean with a damp cloth once in a while may be necessary.
The Bronzing Duo is also available in Glinth/Burnish which is more suitable for medium to dark skintones.
Powder Blusher in Thrust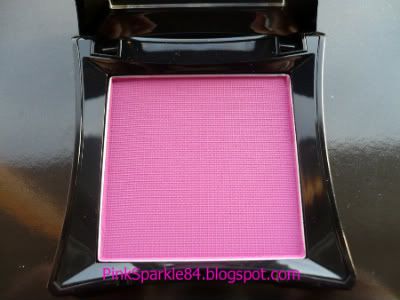 I own nothing like this in my collection, it's a bright violet/magenta/fuchsia shade and my initial reaction was "this is bright and I'm so pale, how am I gonna get it to work?" Need not worry as it's buildable and can be blended to a barely there flush in fact it really suits fair skin and I see myself wearing it a lot for Autumn and Winter.
I find matte blusher hard to work with but not this one the texture is great, soft, smooth and easily blended it doesn't go on patchy like many others do and it as that light vanilla sugar scent all of Illamasqua's powder products seem to have.
For a blusher it's a little pricey but in my opinion totally worth it.
Cream Blusher in Rude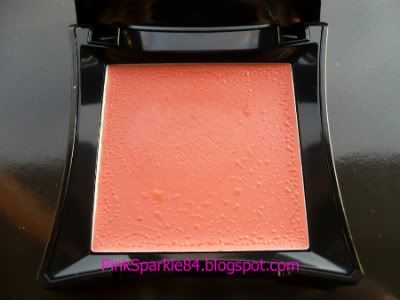 I got this one based on a swatch on the Illamasqua Blog, it's just my kind of color I had to have it and it certainly doesn't disappoint.
It's a gorgeously pretty apricot pink with no shimmer or sparkle and it gives the most natural flush, if your pale like me and you get only one thing from Illamasqua make sure it's this because you wont regret it, girls with darker skintones this may not show up on you very well.
The texture of this is phenomenal, (kinda reminds me of YSL's Rouge Volupte lipsticks) I use my MAC 109 and it glides effortlessly in place and doesn't budge, for a cream blusher this is super long lasting requiring no touch-ups during the day.
They are a little expensive but I don't care, there's at least another 4 I want and I consider them to be an investment as I know I'll get plenty of use out o them.
4 Color Lip Palette in Submit/Liv/Sonnet/Maneater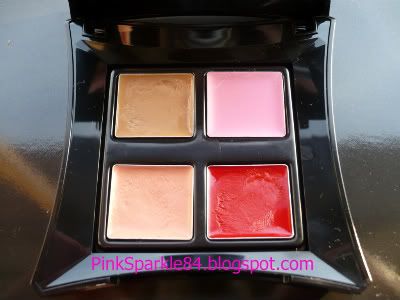 I'm not a big fan of lipstick palettes, I hate using a lip brush so I end up using my fingers and that is unhygienic. This one is no exception however I'm still glad I got it as it's a good way of trying 4 colors for a little more than the price of one tube. The colors I got are:
Submit, a lovely warm caramel nude that's not too light and is very wearable.
Liv, pretty milky pale pink but very hard for me to pull off, it clashed with my red hair and made my teeth look yellow.
Sonnet, my new must have a warm peachy shade that I've worn constantly since I got it and a shade I can see would look good on everyone.
Maneater, my fave of the bunch, a very blue based red that compliments my skintone perfectly, this one will get you noticed.
The texture of these are matte but not drying, I still use a balm or a gloss over the top but it's because I prefer a glossier look however I've used them on their own and they don't dry my lips out.
I wont be buying another palette but I will certainly buy more of the full size lipsticks in the tube.
Intense Lipgloss in Absorb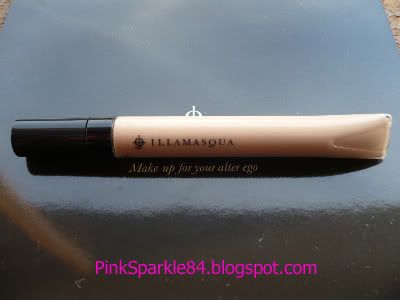 Absorb is a pale nude shade and they are not kidding when they say these are intense, a light coating completely wipes out any of my lips natural pigmentation.
Unless your waering an extreme smokey look on the eyes this shade is too severe.
I find it far more wearable if you sheer it out with clear gloss or if you mix it with a slightly darker nude.
Color aside the formula is great, non sticky, smooth, moisturising, super glossy and longlasting, it's everything I want a lipgloss to be.
I love the slimline packiging but kinda whish it had a brush on applicator as the plastic nozzle doesn't give such an acurate finish.
Next on the list is Fierce, a bright purple and I also wanna try the sheer lipgloss too.
I'm completely blown away by the products I wasn't expecting to like them as much as I have but I can see myself re-purchasing again and again.
If you try one new brand this year make it Illamasqua, you wont be dissapointed.