I'm sorry I haven't posted in the last week and half but I've been really stressed out at work and haven't been in the mood to do so, I still have to blog about the Illamasqua Dystopia event.
I've been spending again but in my defense most of this stuff as been bought with my staff discount so it's not that bad really, lol.
Yves Saint Laurent
Rouge Volupte #19 Frivolous Pink, apparently the more wearable version of Lingerie Pink, for me it nothing alike but still very pretty.
Rouge Volupte #2 Sensual Silk, a nice nude cream in the tube but orange on my lips, not a fan.
Both of these were FREE! cause they were bought with Boots Advantage points.#
MAC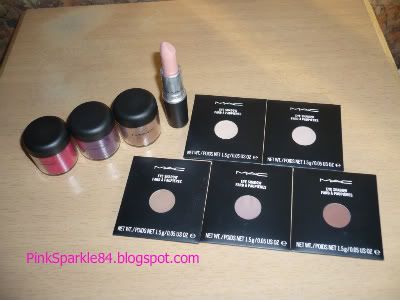 Pigment in Brash & Bold, a bright pink based red which is lovely but not essential.
Pigment in Push The Edge, a dark purple with a slight pink shimmer.
Pigment in Cocomotion, a very wearable shimmery dirty gold shade and a must have.
Liptick in Close To Real, another basic nude peachy pink.
Eye Shadows in Brule, Bisque, Wedge,Quarry and Swiss Chocolate to replicate the "Twilight" look.
Benefit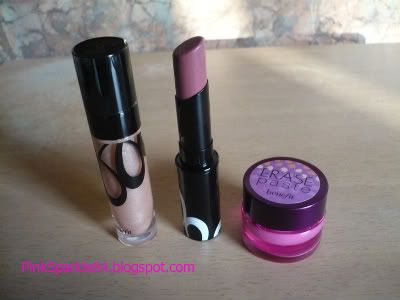 Lipgloss in Zone Out, a soft pale shimmery gold shade,lovely balmy formula and great sweet fruity scent.
Silky Finish Lipstick in Good To Go, another one of those "Twilight" items this one being Bella's lipstick.
Erase Paste in shade 1 Fair, haven't tried this yet but it's a brightening concealer for the under eye.
Urban Decay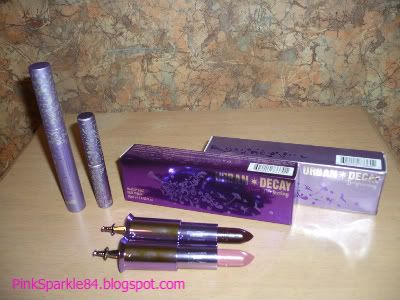 I haven't tried these yet (apart from testing them on the back of my hand in store0 and I've read reviews since buying the products and some may go back.
Lash Primer Potion
Lip Primer Potion
Pore Perfecting Primer Potion
Brightening Primer Potion
Lipstick in Confession
Lipstick in Naked
I've also bought some more Illamasqua goodies but they deserve a post of their own.