Yep new stuff again, not much though.
I went to MAC on Thursday to check out A Rose Romance and Double Dazzle and I can honestly say I'm disappointed.
I got nothing from A Rose Romance, the colors just looked the same to ones I already had, the gel blush is the only thing worth getting but personally I find it expensive.
I love dazzleglasses so I was excited to see the new ones but a lot of them are re-promotes that I already have so I didn't get much from this collection either.
Most of them are now permanent anyways so no need to rush out and get them before they are gone.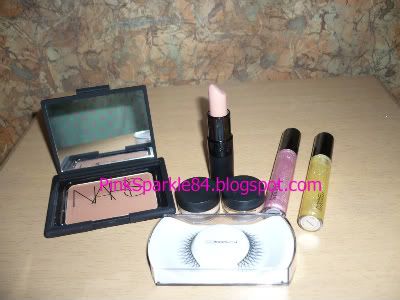 Nars Irresistiblement Bronzing Powder: not sure on this one yet it seem to rub of my skin really quickly but I love the shade.
GOSH Darling #134 Velvet Touch Lipstick: I've been looking for this lipstick for weeks cause everywhere was sold out got a tube of it on Monday and I love it and since they restocked the shelves at my local Superdrug today I got 2 more tubes so I don't run out.
Samples of MAC Studio Fix Fluid in NC15 & NC20: my Studio Sculpt is melting of my face now the weathers getting warmer so I thought I'd try this one instead.
MAC Lashes in #41: I love these and they still manage to look sort of natural.
MAC Dazzleglass in Rags To Riches: lovely soft cool based pink and it's super sparkly.
MAC Dazzleglass in Goldyrocks: great for warming up a lipstick or giving bare lips a golden tint.