Alpha H Liquid Gold
Used to used this all the time a couple of years ago and my skin was always clear and glowy, I stopped using it and my skin looked awful so I finally decided to get a new bottle.
It's a glycolic acid treatment that you put on before bed to gently resurface your skin as you sleep, it does it's job quite effectively and I would recommend it to anyone who is breakout prone or suffers with dull uneven skin tone.


Chanel Hydramax Lotion
Another old favourite, it suits my skin type brilliantly and provides just enough hydration without breaking me out.
Expensive but so worth it.
Garnier Tinted Roll-On
I like to use this as my morning eye treatment as it cools and de-puffs eyes while helping to conceal dark circles.
Makeup
Chanel Vitalimiere Aqua
Brilliant light/medium coverage foundation that looks natural on the skin, this is a step up from tinted moisturiser.
I have the colour B10 and it's the best match out of all the foundations that I own, the only slightly negative thing about it is it doesn't last as long as I would like it to.
Bourjois Healthy Mix
This is perfect for days were I want a little extra coverage and a more matte finish, glides on effortlessly and provides medium coverage that lasts all day.
Christian Dior Diorskin Nude Powder
This can be used like you would a mineral powder foundation but I find that way useless however it makes a great setting powder for all my foundations and a little goes a long way, I feel I've had my pot forever.

Lancome Hypnose Doll Eyes
I was given a sample a few weeks ago and I absolutely love it!
The tapered brush means you can get every little hard to reach lash and it leaves them looking long and full.
Will re-purchase as soon as my little tube runs out.


Joico Color Endure Violet Shampoo
I've recently had my old colour stripped and gone back to blonde so I needed a purple shampoo to keep my new shade brass free and bright looking.
I did my research and this was the one everyone recommended and it's brilliant, it's so rich in violet pigment and works so well to cool down any gold tones in your hair, it works so much better than the L'Oreal one I used too use.
Joico K-Pack Deep Penetrating Reconstructor
Like I said above I've gone back to blonde after two years of dying my hair brown, (it took 4 hours to do, I had my hair stripped 3 times and some highlights put in) and the process can be quite harsh on your hair and leave it feeling dry and weak.
It took one application of this treatment to restore the strength in my hair and make it feel normal again, it's a miracle worker but needs to be followed up with a moisturising treatment as this one is protein based and can make your hair feel dry.
Joico K-Pack Intense Hydrator
I use this after I've used the Deep Penetrating Reconstructor, it's moisturising enough to leave hair soft and shiny but doesn't weigh it down or make it limp and greasy.
I think I could get away with using this as my daily conditioner as I don't find regular conditioner moisturising enough.
Perfume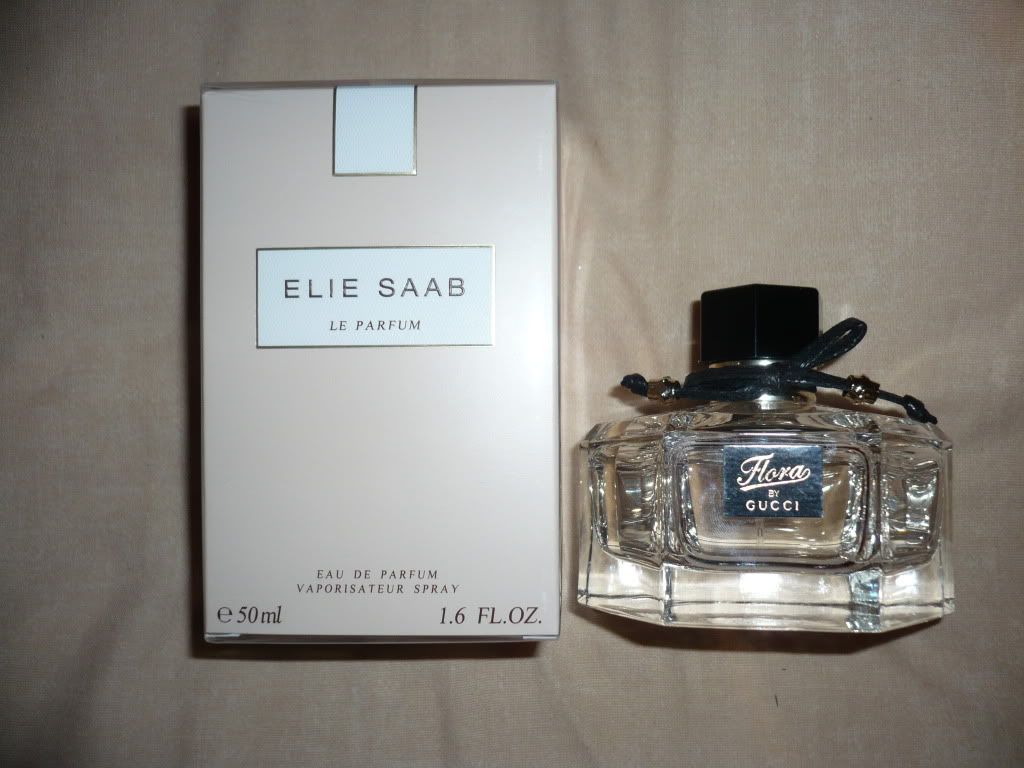 Elie Saab La Parfum
Not usually the sort of perfume I go for as it's a floral and I normally go for very sweet, fruity scents but there something so addictive about this.
It's a strong neroli and jasmine scent and quite heavy and sweet something about it reminds me of summer back home in Italy.

Gucci Flora
Gorgeous summer scent,not that we've had much of a summer in the UK, very fresh and fruity without being overpowering.

What were your favourites of August?