I been looking forward to these being launched ever since I saw them on quite a few blogs earlier this year as they seemed to be the high street answer to OCC's Lip Tars and would be easier to get access to as they are sold in Superdrug.
I literally stalked my two local Sleek counter for 3 days because all the testers had come in but no stock, I finally managed to get my hands on 3 of the colours (has they are on 3for2 at the moment) and I'm not that impressed.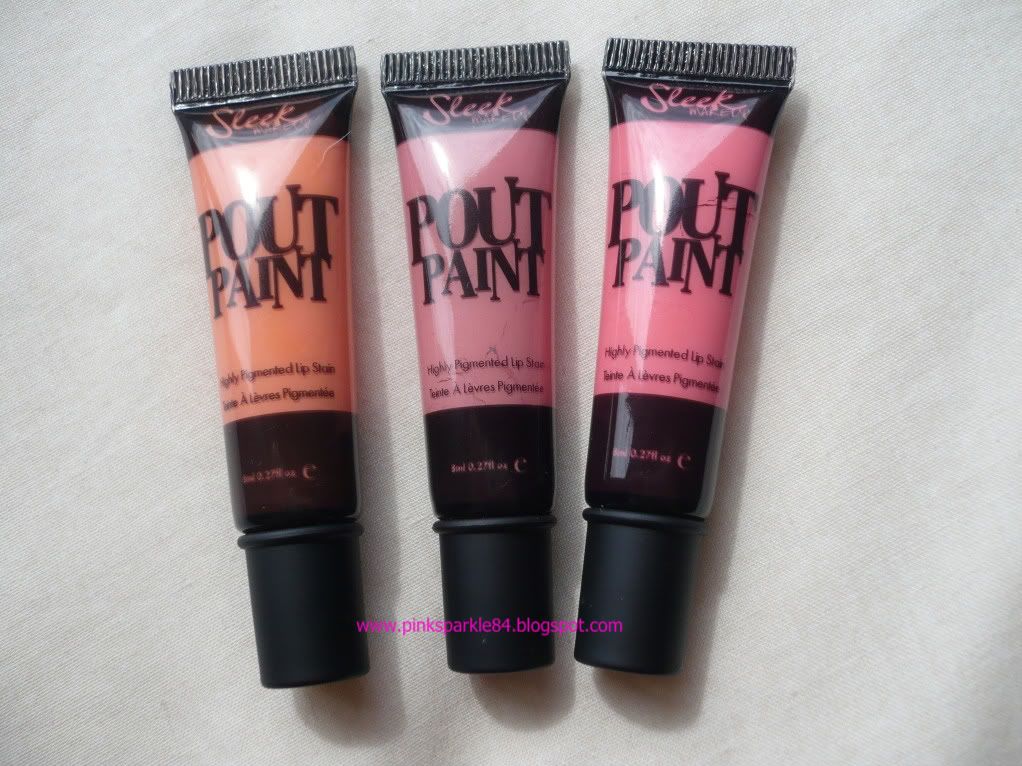 Peachy Keen, Minx, Milkshake
They might look like the Lip Tars in the tube but they are nothing alike when applied to the lips.
Lip Tars are a highly pigmented liquid lip cream that lasts for hours, have a pretty satin finish and leave a stain behind when they wear off.
They are a little drying but they fade nicely and evenly and require little in terms of touch up.
The Sleek Pout Paints on the other hand are more like a liquid lipstick, very pigmented but with a glossier more moisturising finish because of this they do glide on quite easily in comparison.
The lasting power isn't bad but I found the product settled into the creases of my lips making them look quite old and as the product wore off it left a white ring round the inside of my mouth which isn't pretty.
Peachy Keen, Minx, Milkshake
One other major issue with the product is that it separates in the tube, when you first squeeze the tube this clear oil comes out first which in turn makes the product apply unevenly, you can kind of see what I mean if you look at my swatch of Minx.
I"m also not a fan of the scent, they have a slight orange scent but it can be too much after a while, the OCC Lip Tars on the other hand have a minty scent that is much more tolerable.
For the price they aren't worth it, the OCC Lip Tars are a little more expensive but a better option overall.
Have you tried the Sleek Pout Paint and what did you think of them?