For the past couple of months my skin as been breaking out like crazy. I usually get the odd pimple here and there but they generally go away pretty quickly, but I've been getting almost constant breakouts and to make the matter worse they are the cystic kind which are painful and take ages to heal, not helped by the fact that I tend to squeeze and pick at them making it worse.
I think I've finally (fingers crossed) found a routine that works for me and the best part is they are all inexpensive products. I seem to have had the best results with natural and organic brands as opposed to the ones that are full of chemicals I can't even pronounce.
I first decided to try Mario Badescu's Glycolic Foaming Cleanser, Drying Cream and Drying Mask as I've heard such good things, unfurtunatly they made my skin worse.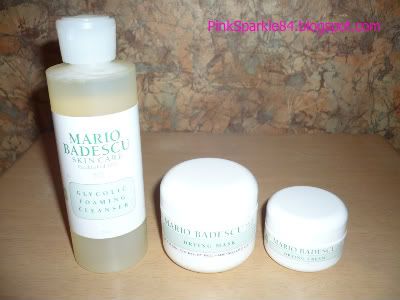 The Drying Mask is awful, it dried my skin out to the point of flaking and give me a huge cystic pimple, I can still slightly feel it under my skin and it happened 4 weeks ago. Add the repulsive gag worthy smell and you have one complete waste of £17.50, honestly how can anyone love this stuff?
Drying Cream is okay, it doesn't make my skin any worse but it doesn't particularly help it either, it does reduce redness a little but I haven't figured out if that's down to the ingredients or the fact that it has a slight tint.
The Glycolic Foaming Cleanser is okay and I'm still using it occasionally but I've used other glycolic cleansers in the past that have worked miles better than this one.
All in all it's leason learned, this is the second time I've tried Mario Badescu and it's clear to me the whole range doesn't suit my skin type.
With Mario Badescu being a total failure I decided to take the less is more aproach and limit my routine to these 3 products.
The Clearasil Skin Perfecting Wash is actually quite good but it's a cream wash and not a foam which I prefer, it does it's job of cleansing but I find I end up with a slight residue which I have to remove with toner.
It hasn't broken me out yet and I actually like to mix this with a little sugar to make a quick but very effective exfoliant.
Boots Botanics Organic Rosewater Toner is the best toner in the whole wide world, I absolutely adore it and works wonders on my skin to calm it down and leave it soft and smooth. I find it really helps calm my skin.
The Clean & Clear Oil Free Dual Action Moisturiser is another product I wish I hadn't bothered with, doesn't moisturise and does nothing in terms of spot fighting. I think it's possibly the most useless product I've ever come across so I'm glad it was cheap and not to much of a waste of money.
Then the other week I was in Holland & Barrets and came across a range called
dr.organic

,
they had a buy one get one half price offer on so I decided to pick up a few items.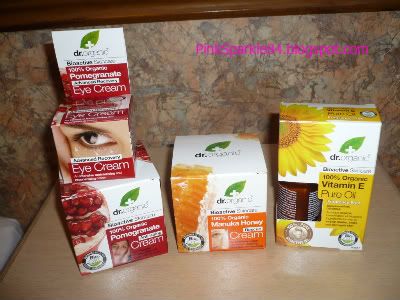 I got the Manuka Honey Rescue Cream, Vitamin E Pure Oil, Pomegranate Anti-Aging Cream and Pomegranate Advance Recovery Eye Cream.
I'm gonna be doing a full review soon when I've had a chance to test the product for longer but while I absolutely adore the Manuka Honey Rescue Cream and use it every day as a day cream I had to exchange the Pomegranate items as they made my skin red and itchy, I got a backup of the honey cream and I decided to try the Vitamin E Super Hydrating Cream.
I really do like the concept of the whole range, 100% Organic natural ingredients, free of harsh chemicals, no mineral oil to clog your pores and most importantly not tested on animals, I'm hoping my skin won't break out with repeted use.
Another thing I picked up while at Holland and Barrets is Glycolic Acid Skin Renewal Cream, and I think this is what as really been helping my skin.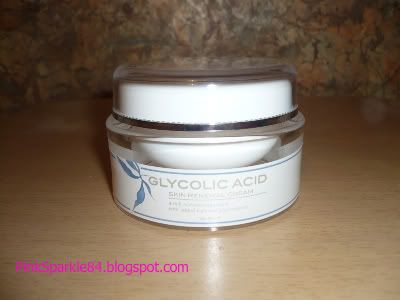 I've used glycolic based products for the past five years, the two brands I've used are Glytone which worked initially but then broke me out and Alpha H which I still love but I have trouble finding the larger size bottles and refuse to buy the smaller ones as they work out expensive.
This cream was £4.99 so if it doesn't work for me then at least I haven't wasted too much money, but so far so good. I use it only at night and in the morning my skin is so soft and glowy and perfectly even, I don't need to use so much foundation and my skin doesn't get as oily during the day.
In addition to the above I will occasionally still use the classic Nivea Creme if my skin is extra dry and as soon as I'm out of all my cleansers I'll be switching to the Boots Botanics Organic Cleansing Balm, I really hope the search for perfect skin is over.